Huitlacoche delicacy good for health?
May 27th, 2021
Have you heard of huitlacoche (we –tla –co-che)?
Well, you may know it as corn mushroom, or Mexican truffle but it is actually a type of fungus and is a Mexican delicacy!

When this fungus comes into contact with corn, it changes the corn's metabolic patterns and can actually make the corn healthier in the process. The result of this mutation makes the huitlacoche a rich source of protein, unsaturated fatty acids, and lysine, which is an amino acid that can promote stronger and healthier bones. And because huitlacoche is almost 15% protein, it is a great alternative protein source for vegan or vegetarian diets.

There are a few hundred amino acids found in nature, and of these, twenty are needed for the creation and growth of protein, but only half of these can be produced by the body. The remaining ten amino acids are called essential amino acids because of the fact that we as humans must consume them in our diet for optimal health and wellbeing. It is important to get sufficient amounts of lysine in the diet, in particular due to the role it plays in building strong bones.

Due to its high lysine content, consuming huitlacoche has been associated with increased absorption of calcium, and as we all know calcium is needed for building strong and healthy bones. However, calcium helps with more than just our bones. When lysine consumption increases, calcium absorption and its benefits also increase such as; collagen formation, balancing weight, dental health, nerve and muscle health, reducing anxiety as well as prevention of diabetes. In addition to this, lysine is necessary for the creation of carnitine, which is another amino acid that helps to convert fatty acids into energy and helps to lower cholesterol.
Huitlacoche can be eaten either raw or cooked, and fresh is always best to retain the flavors and nutritional benefits. The most common way it is consumed here in Mexico is by cooking it into tamales, quesadillas, corn patties, soups, stews, and with eggs, as well as being eaten raw in a salad. Do not be alarmed when cooking huitlacoche to see the light grey flesh turn black and release a black liquid – kind of like what you would see coming out of a squid, this is normal! Huitlacoche is said to have an earthy, smoky and truffle like taste, not to everyone's liking, however if you haven't given it a try yet, try the recipe below. Who knows, you may enjoy the combination of flavors especially when the huitlacoche doesn't take over the taste of the entire dish, and yet you will still enjoy all the health promoting benefits it has to offer!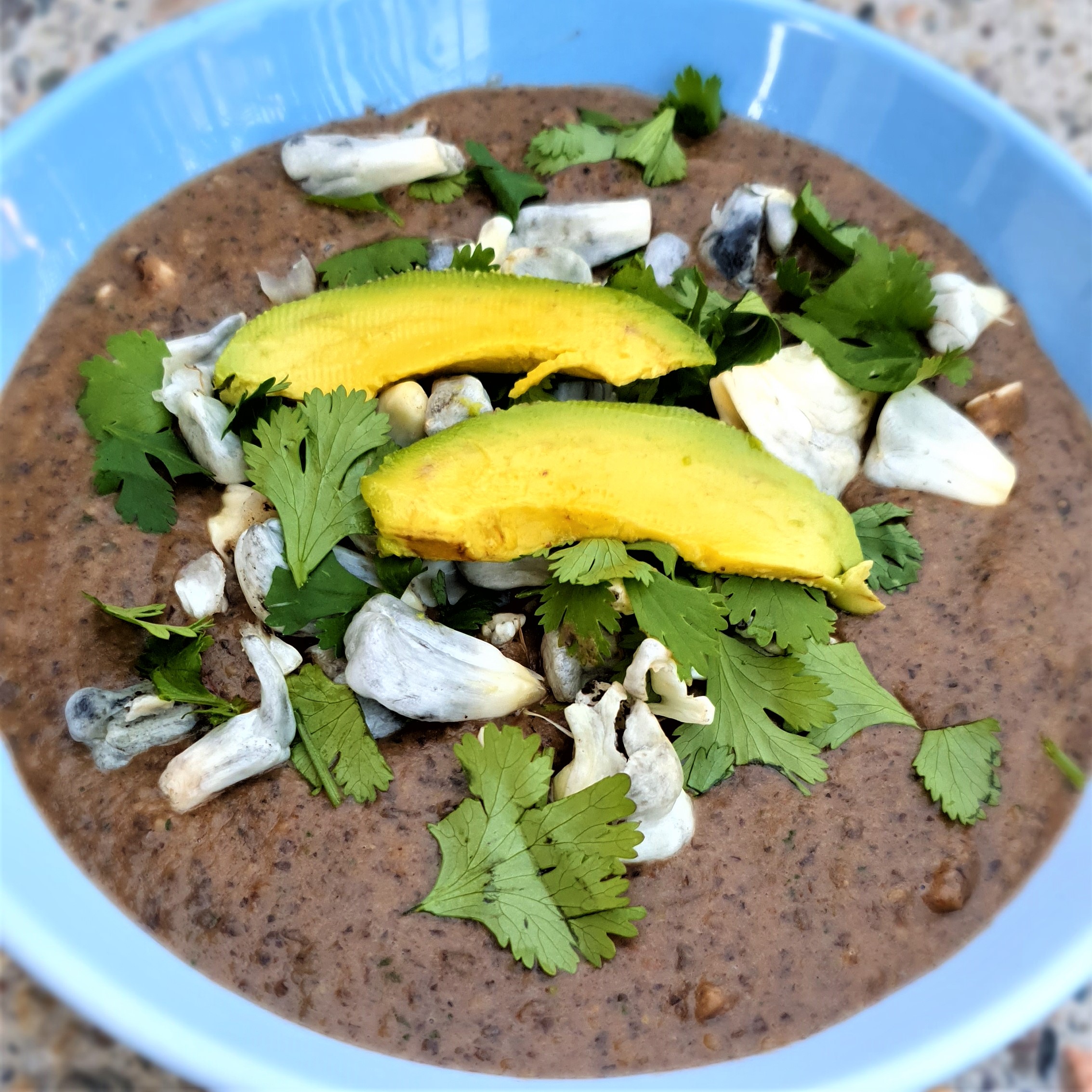 SMOKEY HUITLACOCHE SOUP
Serves 2-4 people
¼ Cup Coconut Oil
½ Onion
5 Cloves Garlic
4 Cups Cooked Black Beans
1 Bay Leaf
3 Cups Vegetable Stock
½ Teaspoon Dried Oregano
½ Teaspoon Ground Cumin
½ Teaspoon Ground Coriander
2 Teaspoons Chipotle Adobo
2 Cups Huitlacoche
¼ Cup Fresh Cilantro
Juice of 1 Lime

Finely chop the onion and garlic and sauté in the coconut oil until soft,
Add in 1 cup of the huitlacoche.
Add in the chipotle puree, and all the dried herbs along with the vegetable stock.
Place on a medium heat and bring to a light simmer for 5 mins.
Turn off, allowing the mix to cool before blending it along with the cilantro and lime juice.
Return the mixture to the pot and place on a simmer for another 5mins, to mix the flavors add in salt and pepper to your liking.
Top with fresh cilantro, the remaining raw huitlacoche, and avocado slices.
This rich soup is packed full of plant-based proteins that will have you feeling healthy and strong!